In the Press
A letter from The Bling Fling Committee
In light of the outbreak of coronavirus and the Government's advice about social distancing, we have taken the difficult but appropriate decision to postpone our Vintage Bling Fling event, which as you are aware was due to be held on 1st May 2020. 

We are incredibly disappointed that the event cannot proceed on the 1st May. However, our first priority is to protect our guests and the staff at the venue and so we have postponed the event until Friday 13th November 2020. Your ticket(s) will, of course, still be valid for the new date, and we sincerely hope that you will still be able to join us. The Vintage theme will remain the same and the event will be bigger and better than before!

 

Disruption to this and other events that support Forget Me Not Children's Hospice is having a huge impact on their ability to raise the funds they need to provide vital support to local children and families. This comes at a time when those families need that support more than ever. Forget Me Not launched their Urgent Appeal this week, asking for donations to help them survive this national crisis.  

 

As you will appreciate Bling Fling raises a magnificent sum each year for Forget Me Not and we hope, with your help, to continue with this successful event early in November as they really need our support.

 

Should anyone on your table be unable to attend the event, a refund is available.

 

We kindly ask for administration purposes, you consolidate all your refund requests, allowing us to process this a table at a time. Alternatively please resell any available spaces or the price of the ticket can be donated to the hospice – please contact steph@crowther.accountants for refund queries (please do not contact Forget Me Not Children's Hospice directly)

 

Thank you for understanding and please look after yourself and your family.

 

 

Take care & best wishes from everyone on the Bling Fling committee.
Awards Bonus For Bling Fling Businesswomen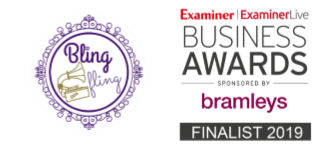 The Bling Fling businesswomen are celebrating some exciting news, having been selected as finalists in the prestigious Huddersfield Examiner Business Awards.
The Bling Fling Committee is in the running for the Community Award – the category sponsored by Simply Biz group, honouring business organisations "with a conscience and a commitment to social responsibility" which go the extra mile to make a positive impact on their local community.
Read the full article here: 
Bling Fling charity lunch returns with a vintage theme
The Bling Fling charity businesswomen's lunch is back again in 2020 raising money for the Forget Me Not Children's Hospice – and this time with a Vintage theme.
Next year's event takes place on Friday, 1st May, at The Arches in Dean Clough, Halifax and with the 75th anniversary of VE day falling the week after, it was decided that the Vintage theme would be a great way to incorporate this into the celebrations.
Read the full article here: 
Floral Bling Fling brings £22,000 for hospice
Three hundred businesswomen from across West Yorkshire attended the charity lunch held at The Arches on Dean Clough.
The Bling Fling returned for the second year running this time with a floral theme, featuring beautiful flowers available for guests to buy in order to enter a special prize draw, plus more chances to win throughout the event.
Read the full article here: 
Dewsbury Rugby Stars Pitch In As Bling Fling Butlers
Dewsbury Rams are putting some muscle into this year's Bling Fling businesswomen's charity lunch, to help raise thousands of pounds for Forget Me Not children's hospice.
The Rugby League club has volunteered to pitch in with a team of "Butlers in Bowties" who will meet and greet guests as they arrive. They will circulate with raffle tickets during the event and generally assist the organising committee to ensure everything runs smoothly in order to raise as much as possible for the hospice and hopefully top last year's total.
Read the full article here: 
Bloomin' brilliant as comic is announced as Bling Fling compere
There'll be fun among the flowers, with comedian and radio presenter Steve Royle announced to compere this year's colourful Floral Bling Fling business ladies' lunch.

The charity event is back for the second year running on Friday, May 3, at The Arches in Dean Clough, Halifax. It is, once again, expected to raise thousands of pounds for Forget Me Not Children Hospice. This year's event will have a floral theme, with beautiful single stem flowers on every table for guests to buy to enter a special prize draw, plus more chances to win throughout the event.
Read the full article here: 
Are you ready for the Floral Bling Fling?
Following on from the success of the very first Bling Fling ladies lunch we are excited to announce that it is back for a second year. Join us on Friday 3rd May at The Arches Halifax for a floral themed ladies lunch raising money for the incredible Forget Me Not Children Hospice.
We are so pleased that this year we have had 2 new members joining the committee to make sure that this event is just as much a success as the first one. Helen Thewlis from Ramsdens Solicitors is looking forward to working with the rest of the Bling Fling ladies to put on a specular event and Vicky Marriot was a massive help to the team last year providing lots of support and wanted to get further involved in the next Bling Fling event.
Read the full article here: 
A group of local businesswomen are organising a glittering event to raise funds for Huddersfield-based Forget Me Not Children's Hospice.
The "Bling Fling" will take place at the Arches, a chic converted mill venue in Dean Clough, Halifax, on Friday, May 4, from noon until 4pm, where guests will be entertained by soul Diva Shorell Jade. After that, there will be more time to sparkle and dance the night away as the fun continues with an after-party until late.
Read the full article here: 
Two unique pieces of jewellery worth more than £5,000 in total have been crafted in Halifax to help raise funds for Forget Me Not Children's Hospice.
Franklyn's Jewellers have hand-made a two-stone diamond pendant and a pair of floral earrings which reflect Forget Me Not's branding. The jewellery has been created specially for "The Bling Fling" ladies' lunch, being organised by a group of local businesswomen in support of the Huddersfield-based charity.
Read the full article here: